We are Sno-Trans and Sales Unlimited, located in Weiser, Idaho. In business since 1980, we have built a strong reputation in the western United States, and to some extent worldwide, in the sales and consignment of all makes and models of quality over-snow vehicles and snow grooming equipment.
An honest and relaxed sales presentation is what you will experience at Sales Unlimited and Snotrans Leasing while we demonstrate our tracked snowcat equipment. Our 20 years of experience in the snowcat industry, has made us a reliable source of helpful information. You will find us happy to answer any and all questions to the best of our ability.
Our office is located just 70 miles northwest of Boise in historic Weiser, (pronounced Wee zur) Idaho. Weiser has a small airport compared to Boise which is an international airport. Weiser is located at the mouth of Hells Canyon and the beautiful Snake River Valley, one of the most spectacular recreation areas in Idaho. We would love you to come and inspect our snow equipment inventory, but while you are here on business, you may want to relax and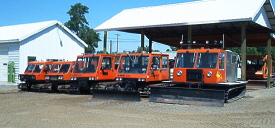 enjoy our beautiful area.
If you are looking for over-the-snow transportation, whether it is tower maintenance, cabin access, trail grooming, search and rescue operations, or just back country touring, we can help meet your needs. We buy, sell and consign almost all brands of used snow tracked vehicles, offering fair and equitable prices. We are a bonded and licensed business and take pride in the return of our satisfied customers.
We have Tucker SnoCat, LMC/Thiokols, Bombardiers, Prinoths, VMC Right Tracks, Pisten Bullys, Cushman Tracksters, Alpines and other miscellaneous tracked vehicles.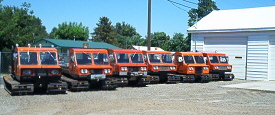 Please browse our online selection of machines currently in stock. Our inventory changes regularly and we have many vehicles not displayed here, so please bookmark this site and visit often or sign up for our newsletter that is sent out whenever we add inventory.
Feel free to E-mail or call us with inquiries regarding any equipment you may have questions about or interest in locating. We encourage you to visit our facilities, test and inspect our vehicles, and be thoroughly satisfied with your purchase.
Hours: Mon. - Fri. 9 AM - 5 PM Mountain Time Phone Number: 208-549-2501